Proline Prosonic Flow 93T
Ultrasonic flowmeter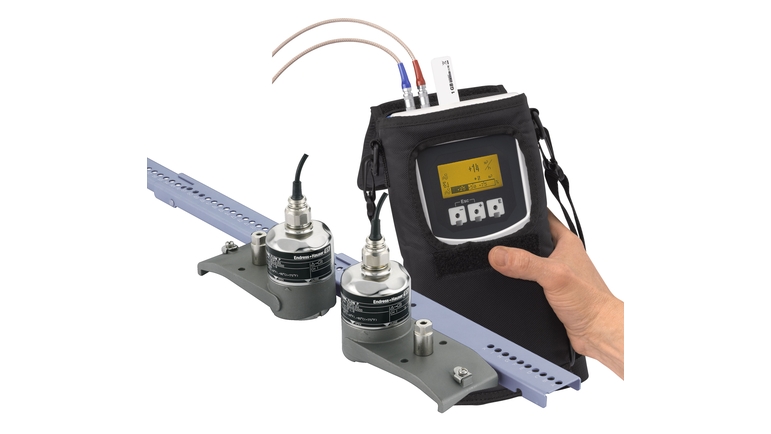 The economical flowmeter for easy data transfer via USB stick without additional software
The portable ultrasonic flowmeter Prosonic Flow 93T is designed for temporary monitoring and test measurements with clamp on sensors. It is operated independently of the mains power using a battery. The Prosonic Flow 93T is ideal for conducting verification measurements at existing flow metering points.
Pikavalinta
Tee valinta ehdotetuista vaihtoehdoista
Yksilöllinen konfiguraattori
Jatka valintaa kaikista mahdollisista vaihtoehdoista
Edut

Automatic frequency scan for maximum measuring performance

Quick and secure installation – specially designed mounting kits

No additional leakage paths – external measurement from outside the pipe

Process transparency – diagnostic capability

Temporary...
Käyttöalue

The sensors are perfectly suited for the non-contact measurement of pure or slightly contaminated liquids, regardless of the pressure or electrical conductivity.

Ideal solution for temporary use everywhere precise measurement or verification is required

Can be used with all metal and plastic pipes lined or unlined and with composite pipes

...
Asiakirjat / käsikirjat / ohjelmisto
Tarvikkeet / varaosat
Nro

1

Tilauskoodi

71076316

Mains supply c.12VDC/2500mA+connec.LEMO

Nro

2

Tilauskoodi

71094796

Kit 1 Terminal 2 pol + 4 Bumpon 93T

Sensor pair-40...80oC Prosonic F DDU18

Sound velocity measuring sensors for Prosonic Flow 93; sensor pair for measurement of sound velocity in the fluid.

Sensor pair0...170oC Prosonic F DDU 18

Sound velocity measuring sensors for Prosonic Flow 93; sensor pair for measurement of sound velocity in the fluid.

Sensor 0...60oC Prosonic Flow DDU 20

Wall thickness measuring sensor for Prosonic Flow 93T; sensor for measuring pipe wall thickness.

Overview auxiliary equipment see spare part picture

Prosonic Flow 93T portable

Battery operated Ultrasonic Flowmeter set incl. datalog function with time stamp, 1 GB USB Stick carry case, charger, battery pack acoustic couple medium 8 hours continious operation.

Prosonic Flow 93T, flow sensor set

For use with Prosonic Flow 93T portable transmitter

Prosonic Flow 91/93/93T,sensor cable set

Prosonic Flow W/P, sensor holder set

Prosonic Flow 93T portable, accessorie

Serviceinterface FXA193

The service interface connects the service port of Proline and ToF devices with the serial interface RS 232C (9 pin.) of a personal computer. Contents of delivery: - Serviceinterface with RS 232C connection cable (9 pin.) - FXA "USB" cable, the additional power supply for FXA193 from USB-port of the PC.