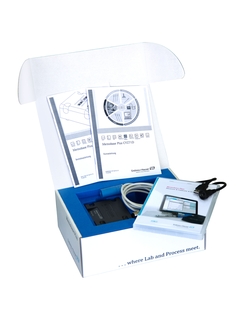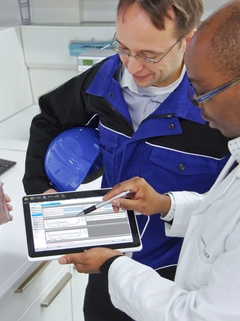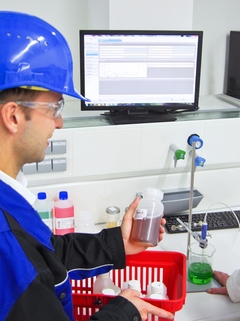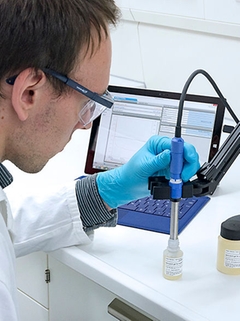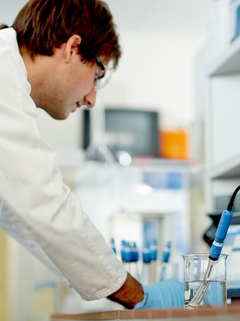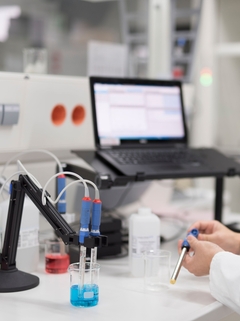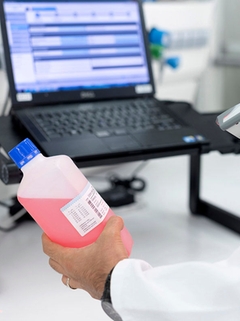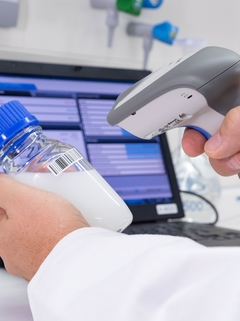 Käyttöalue
Memobase Plus is the perfect software to improve your process safety and reliability. It documents the complete lifetime of Memosens sensors offering full traceability with a minimum of paperwork. Memobase Plus turns your computer into a high-performance, space-saving measuring device for up to 4 parallel sensors. You can save and export measurement data and use identical sensors in the laboratory as in the process to achieve truly comparable measurements.
Memobase Plus manages the complete life cycle of pH, ORP, conductivity, dissolved oxygen and chlorine sensors with the robust Memosens technology.
It is available for all industries and fulfills the highest demands of the pharmaceutical industry. User management and audit trail enable working in compliance with FDA 21 CFR Part 11.
Edut
Higher efficiency with easy sensor maintenance:
Plug and play with Memosens sensors means: Just swapping the sensors in the process with lab pre-calibrated sensors.

Advanced diagnostics with 'Ready for next batch' indication:
Memobase Plus evaluates the sensor performance and clearly visualizes the sensor status. You avoid bringing out-of-spec sensors back into the process and ensure your process reliability.

Better process safety with sensor traceability:
Complete lifetime history of all Memosens sensors is beneficial for GLP, GMP, user management, and audit trail in compliance with FDA 21 CFR Part 11.

Full flexibility with multichannel, multiparameter:
Memobase Plus turns your computer, laptop or tablet into a space-saving, high-performance device for up to 4 parallel Memosens sensors.

100% measuring consistency between lab and process measurements:
Memobase Plus as a measuring work station minimizes the risk of discrepancies between laboratory results of grab samples and process values.

Highest accuracy for your measurement values:
Memobase Plus is the very first tool that enables you to do real multipoint sensor adjustments and calibrations. Benefit from enhanced calculations and statistics for the most accurate measurements.

Easy buffer management:
With a scanner you import the LOT number, the expiry date, etc. of our buffers into Memobase Plus - it's convenient, fast and error-free. This allows you to easily trace which sensor has been calibrated with which buffer.
Menestystarinat
Yhdessä asiakkaiden parhaaksi

Valmetin ja Endress+Hauserin pitkä, asiantuntemukseen, hyvään viestintään ja luottamukseen perustuva yhteistyö näkyy asiakkaille räätälöityinä ja innovatiivisina ratkaisuina.

Tutkitusti laadukasta juomavettä

Endress+Hauser suorittaa verkostomittauksen palveluna Tampereen Vedelle. Tiimi analysoi mittaustulokset ja yhdessä Tampereen Veden kanssa tehdään johtopäätökset, joiden perusteella toimintaa kehitetään.
Helppokäyttöiset tuotteet

Helppoja valita, asentaa ja käyttää
Tekninen suorituskyky
Helppokäyttöisyys
Standardituotteet

Luotettavat, lujatekoiset ja helppoja huoltaa
Tekninen suorituskyky
Helppokäyttöisyys
Laadukkaat tuotteet

Erinomainen toiminnallisuus
Tekninen suorituskyky
Helppokäyttöisyys
Erikoistuotteet

Suunniteltu vaativiin sovelluksiin
Tekninen suorituskyky
Helppokäyttöisyys
FLEX-valikoima
Tekninen suorituskyky
Helppokäyttöisyys

Fundamental-valikoima

Täytä perusmittaustarpeesi

Tekninen suorituskyky

Helppokäyttöisyys

Lean-valikoima

Käsittele ydinprosessejasi helposti

Tekninen suorituskyky

Helppokäyttöisyys

Extended-valikoima

Optimoi prosessisi innovatiivisilla teknologioilla

Tekninen suorituskyky

Helppokäyttöisyys

Xpert-valikoima

Hallitse haastavimmatkin sovelluksesi

Tekninen suorituskyky

Helppokäyttöisyys
Saatat olla kiinnostunut myös seuraavista