Proline Prosonic Flow 92F
Ultrasonic flowmeter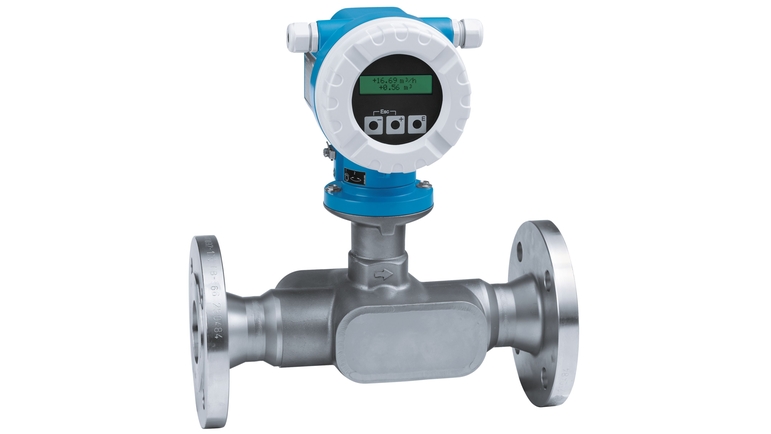 Highly accurate, loop-powered flowmeter with innovative parallel path design for minimum inlet runs
The Prosonic 92F combines a loop-powered transmitter with an inline sensor in a rugged industrial design. It offers easy system integration and accuracy at an attractive price. Prosonic 92F is ideally suited for the chemical and petrochemical industries.
Edut

Safe design for process industries – international hazardous area approvals

No additional pressure loss – full bore design

Process transparency – diagnostic capability

Easy installation and reduced installation costs – loop-powered transmitter

Fully...
Käyttöalue

The measuring principle is independent of pressure, density, temperature, conductivity and viscosity

Inline device for homogeneous conductive and non-conductive liquids in the chemical and petrochemical industry.

Device properties:
Asiakirjat / käsikirjat / ohjelmisto
Tarvikkeet / varaosat
Nro

B

Tilauskoodi

71026978

Kit amplifier 92F HART Ex V1.00.04

Nro

B

Tilauskoodi

71126042

Kit amplifier 92F HART Ex V1.01.02

Nro

B

Tilauskoodi

71028092

Kit amplifier 92F Profib. PA Ex V1.00.03

Nro

B

Tilauskoodi

71126044

Kit amplifier 92F Profib.PA Ex V1.01.04

Nro

B

Tilauskoodi

71064584

Kit amplifier 92F Found.F. Ex V1.00.00

Nro

B

Tilauskoodi

71126043

Kit amplifier 92F Found.F. Ex V1.01.04

Nro

A

Tilauskoodi

71026979

Kit I/O-board 92F HART Exi

Nro

A

Tilauskoodi

71026980

Kit I/O-board 92F HART/pulse Exi

Nro

A

Tilauskoodi

71026981

Kit I/O-board 92F PROFIBUS PA Exi

Nro

A

Tilauskoodi

71026982

Kit I/O-board 92F Found.Fieldbus Exi

Nro

E

Tilauskoodi

71026984

Kit I/O-board 92F HART Exd

Nro

E

Tilauskoodi

71026985

Kit I/O-board 92F HART/pulse Exd

Nro

E

Tilauskoodi

71026986

Kit I/O-board 92F PROFIBUS PA Exd

Nro

E

Tilauskoodi

71026987

Kit I/O-board 92F Found.Fieldbus Exd

Nro

C

Tilauskoodi

50103472

Kit display 72/73/92F(HART) 12 languages

Language: EN+DE+FR+ES+IT+NL+NO+SV+ FI+PT+PL+CS

Nro

D

Tilauskoodi

50103473

Kit display72/73/92F(FF/PA) 12 languages

Language: EN+DE+FR+ES+IT+NL+NO+SV+ FI+PT+PL+CS

Nro

F

Tilauskoodi

71026991

Kit connec. board 92F FS elect Ex

Nro

G

Tilauskoodi

71026992

Kit connec. board 92F FS sens Ex

Nro

25

Tilauskoodi

50108141

Kit Terminal Block 72/73/92F

Nro

8

Tilauskoodi

50103526

Kit cover 72/73/92F with window

Nro

9

Tilauskoodi

50103527

Nro

11

Tilauskoodi

50103527

Nro

12

Tilauskoodi

50103527

Nro

12

Tilauskoodi

71247838

Repair kit cover, remote version

Usage: 10/5X/8X/8DF/8CN/92F/65/400/800 acc. service info SI01351D-1/06 Consists of: Cover Rep.kit for G14, O-Ring 110.00 x 4.50 HNBR, Grease

Nro

10

Tilauskoodi

50106386

Kit cover connection compart. Exd

72/73/92F/8FF/8FE/8CM

Nro

1

Tilauskoodi

50103658

Kit 10 cable glands M20x1,5 grey

Nro

1

Tilauskoodi

50098036

Kit 10 cable glands M20x1.5 Ex

Nro

1

Tilauskoodi

50098041

Kit 10 ext. M20x1.5/G 1/2" (plug PVC)

Nro

1

Tilauskoodi

50098042

Kit 10 ext. M20x1.5/NPT 1/2" (plug PVC)

Nro

1

Tilauskoodi

50098037

Nro

1

Tilauskoodi

50098037

Nro

1

Tilauskoodi

50094984

Nro

1

Tilauskoodi

50094984

Nro

3

Tilauskoodi

50097147

Kit Ground terminal/Cover clamp

10/1YH/23/65/72/73/91W/92F/8FF/8FE/8CM

Nro

4

Tilauskoodi

71031256

Kit Circuit board 92F field housing

Nro

5

Tilauskoodi

50103529

Kit Display carrier 72/73/92F field hous

Nro

6

Tilauskoodi

71026990

Kit gaskets housing 92F compact

Overview auxiliary equipment see spare part picture

Transmitter 80/83/84, mounting set

Prosonic Flow 92F, sensor cable set