COD analyzer
Liquiline System CA80COD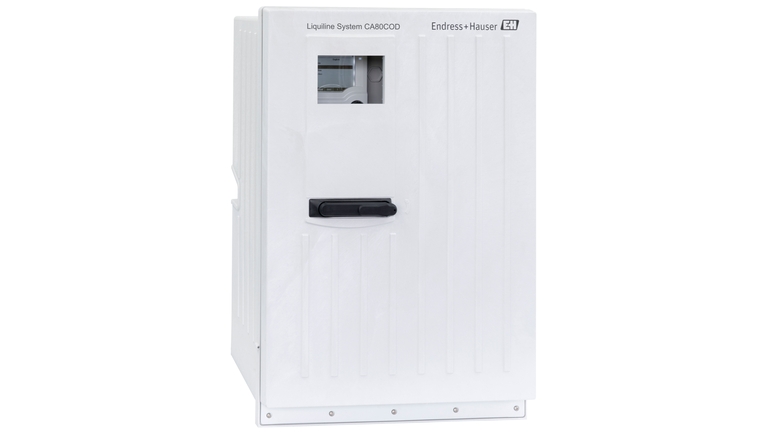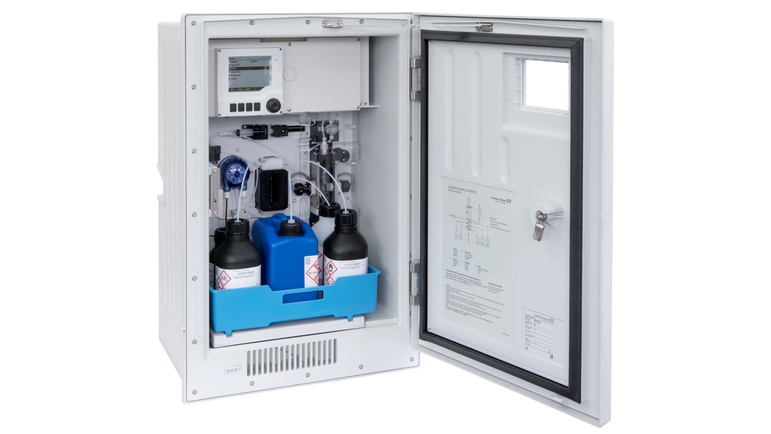 Analyzer for chemical oxygen demand in environmental monitoring, industrial and municipal wastewater
Liquiline System CA80COD offers constant online measurement of the chemical oxygen demand (COD). It supports you in monitoring the cleaning capacity of wastewater treatment plants and enables load-based billing for industrial dischargers. Automatic calibration and cleaning save operating costs while advanced diagnostics with remote access help to provide process documentation to authorities. The COD analyzer's software-controlled safety functions ensure the highest level of occupational safety.
Pikavalinta
Tee valinta ehdotetuista vaihtoehdoista
Yksilöllinen konfiguraattori
Jatka valintaa kaikista mahdollisista vaihtoehdoista
Edut

Established COD dichromate method directly comparable to laboratory results.

Meeting industry needs: The analyzer is perfectly suited for environmental monitoring, industrial and municipal wastewater.

Fast and easy process integration: Direct...
Käyttöalue

The Liquiline System COD analyzer monitors:

Inlet and outlet of wastewater treatment plants for documentation purposes and calculation of the cleaning capacity

Discharges of industrial wastewater treatment plants to determine discharge fees and to...
Asiakirjat / käsikirjat / ohjelmisto
Tarvikkeet / varaosat
Maintenance booklet CA80xx for download

Reagent / Standard solution CY80COD

Reagent set, respectively standard solution, for Liquiline System CA80COD Contains dangerous goods

CAV880 Maint. kit CA80 sum parameters

CAV880 wear parts CA80 sum parameters

Nro

102

Tilauskoodi

71218400

Kit CA8x/CAT860: wall mounting

Nro

103

Tilauskoodi

71218402

Kit CA8x/CAT860: housing bottom

Nro

206

Tilauskoodi

71218409

Kit CA8x: door with window

Nro

108

Tilauskoodi

71218419

Kit CA8x: M12 ext. jack digit. Sensor

Nro

208

Tilauskoodi

71218425

Kit CA8x/CAT860: lock cylinder

Nro

111

Tilauskoodi

71218429

Kit CA8x/CAT860: door stop

Nro

207

Tilauskoodi

71324175

Kit CA80COD/TP: safety cover

Nro

151

Tilauskoodi

71324522

Kit CA80COD/TP: safety lock

Nro

152

Tilauskoodi

71325409

Kit CA80COD/TP: Cover for FMAB1

Nro

153

Tilauskoodi

71403266

Kit CA80COD/TP Outlet hose

Nro

205

Tilauskoodi

71218434

Kit CA8x: bottle tray no cooling

Nro

198

Tilauskoodi

71218490

Kit CA8x: linear drive (1 piece)

Nro

199

Tilauskoodi

71222105

Kit CA8x: dispenser holder 10ml (10 pcs)

Nro

202

Tilauskoodi

71222106

Kit CA8x: dispenser 10 ml (20 pcs)

Safety bottle plastic black 1l

Safety bottle plastic without colour 1l

Nro

200

Tilauskoodi

71324153

Kit CA80COD/TP: Pharmed hose (2 m)

Nro

210

Tilauskoodi

71431075

Kit CA80COD: waste hose

Only use with new waste valve 71431077 Kit CA80COD: waste valve!

Kit CA80COD/TP: PTFE hose (5 m)

Kit CA80COD/TP: hose connectors (20 pcs)

Nro

209

Tilauskoodi

71324163

Kit CA80COD/TP: pump hose (10x)

Nro

211

Tilauskoodi

71324170

Kit CA80COD/TP: leakage sensor

Nro

213

Tilauskoodi

71324188

KitCA80COD/TP: dosing tube

Nro

217

Tilauskoodi

71431081

Kit CA80COD/TP: dilution valve

Only use with 71324153 Kit CA80COD/TP: Pharmed hose (2 m)!

Nro

215

Tilauskoodi

71431077

Kit CA80COD: waste valve

Only use with new waste hose 71431075 Kit CA80COD: Use the waste hose!

Nro

219

Tilauskoodi

71324194

Kit CA80COD: cuvette heated 15mm

Nro

203

Tilauskoodi

71324520

Kit CA80COD/TP:peristaltic pump complete

Nro

221

Tilauskoodi

71324523

Kit CA80COD/TP: 10x cap dilution vessel

Nro

223

Tilauskoodi

71325777

Kit CA80COD/TP: Y-strainer

Nro

224

Tilauskoodi

71360016

Kit CA80COD/TP: Y-strainer (inch)

Nro

225

Tilauskoodi

71360026

Kit CA80COD/TP: Y-strainer hose

Nro

226

Tilauskoodi

71347636

Kit CA80COD/TP: Suction filter

Nro

141

Tilauskoodi

71218505

Kit CA8x: DC/DC transformer 24V

Nro

142

Tilauskoodi

71218503

Kit CA8x: power supply 100 - 240 V AC

Nro

146

Tilauskoodi

71218507

Kit CA8x: Interface module CM44

Nro

305

Tilauskoodi

71272410

Kit: module ETH

(+Webserver) extendable via upgrade code to Modbus TCP or EtherNet/IP CM442/CM444/CM448/CSF48 CM442R/CM444R/CM448R

Kit CA80COD/TP light bar. linear drive

Kit: 1x set of terminals basic module

CM442/CM444/CM448/CSF48/CSP44

Kit: 1x set of terminals module AOR

CM442/CM444/CM448/CSF48

Kit: 1x set of terminals module 4R

CM442/CM444/CM448/CSF48

Kit: 1x set of terminals module 4AO

CM442/CM444/CM448/CSF48

Kit: 1x set of terminals module 2xAI,485

CM442/CM444/CM448/CSF48

Kit: 1x set of terminals module DIO

Nro

312

Tilauskoodi

71101762

Kit: display cable

CM442/CM444/CM448/CSF48

Nro

313

Tilauskoodi

71127100

SD-Card with Firmware, 1GB

Industrial Flash Drive, Liquiline firmware for 4-wire platform CM442 / CM444 / CM448 / CSF48

Nro

314

Tilauskoodi

71110815

SD-Card, 1GB, Industrial Flash Drive

.

Kit CA80xx: 1x digital sensor inputs

Kit CA80xx: 2x digital sensor inputs

Nro

315

Tilauskoodi

71111053

Kit : module AOR

2x Relay, 2x 0/4..20mA Out CM442 / CM444 / CM448 / CSF48 CM442R / CM444R / CM448R

Nro

316

Tilauskoodi

71125375

Kit: module 2R

2x Relay CM442 / CM444 / CM448 / CSF48 CM442R / CM444R / CM448R

Nro

317

Tilauskoodi

71125376

Kit: module 4R

4x Relay CM442 / CM444 / CM448 / CSF48

Nro

318

Tilauskoodi

71135632

Kit: module 2AO

2x 0/4..20mA Out CM442 / CM444 / CM448 / CSF48 CM442R / CM444R / CM448R

Nro

319

Tilauskoodi

71135633

Kit: module 4AO

4x 0/4..20mA Out CM442 / CM444 / CM448 / CSF48 CM442R / CM444R / CM448R

Nro

320

Tilauskoodi

71135634

Kit: module 485

(+Webserver) Extendable via upgrade code to Profibus DP or Modbus RS485 or Modbus TCP or EtherNet/IP CM442/CM444/CM448/CSF48 CM442R/CM444R/CM448R

Nro

323

Tilauskoodi

71135631

Kit: module 2DS

2x digital sensor CM442 / CM444 / CM448 / CSF48 CM442R / CM444R / CM448R

Nro

324

Tilauskoodi

71135638

Kit: module DIO

2x digital in, 2x digital out CM442 / CM444 / CM448 / CSF48 CM442R / CM444R / CM448R

Nro

305

Tilauskoodi

71279809

Upgrade Kit: Modul ETH + Modbus TCP

(+Webserver) CM442/CM444/CM448/CSF48 CM442R/CM444R/CM448R

Nro

305

Tilauskoodi

71279812

Upgrade Kit: Modul ETH + EtherNet/IP

(+Webserver) CM442/CM444/CM448/CSF48 CM442R/CM444R/CM448R

Nro

320

Tilauskoodi

71140888

Upgrade Kit: Modul 485 + Profibus DP

(+Webserver) CM442/CM444/CM448/CSF48 CM442R/CM444R/CM448R

Nro

320

Tilauskoodi

71140889

Upgrade Kit: Modul 485 + Modbus RS485

(+Webserver) CM442/CM444/CM448/CSF48 CM442R/CM444R/CM448R

Upgrade code: Modbus TCP f.module ETH

Enter this code to change active fieldbus protocol to Modbus TCP (provide serial number of device) CM442/CM444/CM448/CSF48 CM442R/CM444R/CM448R

Upgrade code: EtherNet/IP for module ETH

Enter this code to change active fieldbus protocol to EtherNet/IP (provide serial number of device) CM442/CM444/CM448/CSF48 CM442R/CM444R/CM448R

Upgrade code: Profibus DP f. module 485

Enter this code to change active fieldbus protocol to Profibus DP (provide serial number of device) CM442 / CM444 / CM448 / CSF48 CM442R / CM444R / CM448R

Upgrade code: Modbus RS 485 f.module 485

Enter this code to change active fieldbus protocol to Modbus RS485 (provide serial number of device) CM442 / CM444 / CM448 / CSF48 CM442R / CM444R / CM448R

Upgrade code: EtherNet/IP f.module 485

Enter this code to change active fieldbus protocol to EtherNet/IP (provide serial number of device) CM442/CM444/CM448/CSF48 CM442R/CM444R/CM448R

Nro

321

Tilauskoodi

71141366

Kit module extention backplane

CM444/CM448/CSF48

Nro

322

Tilauskoodi

71135639

Kit: module 2AI

2x 0/4..20mA In CM442 / CM444 / CM448 / CSF48 CM442R / CM444R / CM448R