RIA16
Loop-powered indicator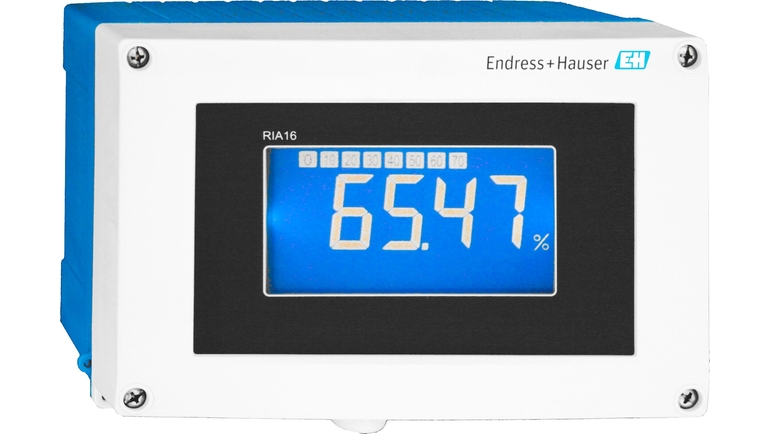 Excellently readable indication of 4…20 mA signal with trend bar graph for a better process overview
The indicator shows the measured signal on the large, backlit display. A bar graph indicates the value graphically for a quick process overview. An editable plain text field displays further information like engineering unit or TAG. Limit value infringement is also signalized and an open collector can be switched. The indicator is powered directly from the 4...20 mA loop and doesn't need a separate power supply. For applications in hazardous areas the device is available with Ex approvals.
Pikavalinta
Tee valinta ehdotetuista vaihtoehdoista
Yksilöllinen konfiguraattori
Jatka valintaa kaikista mahdollisista vaihtoehdoista
Edut

Display of 4 to 20 mA measured values

5-digit measured value display with dimension, bar graph and backlight

No external power supply required

Versions: Fiber glass reinforced plastic respectively aluminum for Ex-applications

Easy 3-key operation; or...
Käyttöalue

Microcontroller controlled process indicator with field housing and illuminated LC display. The measuring range, decimal point and offset of the display can be configured comfortably by means of three keys in the device with the housing open or by...
Asiakirjat / käsikirjat / ohjelmisto
Tarvikkeet / varaosat
Nro

2

Tilauskoodi

RIA16X-GA

Front plastic incl. front foil

Nro

1

Tilauskoodi

RIA16X-GB

Front Alu incl. front foil + glass (with seals + display fixing frame)

Nro

3

Tilauskoodi

RIA16X-GD

Lower part Alu, metric thread

Nro

3

Tilauskoodi

RIA16X-GE

Lower part Alu, NPT1/2 thread

Nro

8

Tilauskoodi

RIA16X-GF

Kit cover + connection parts: Cover for front + lower part, counter plate for cable gland (plastic housing), ribbon cable main board-display board

Nro

7

Tilauskoodi

RIA16X-GG

Kit small parts: Goretex filter, 2x hinge bolts, cable shield ground clamp (metal set = 5 x bracket + bolt / washers)

Nro

5

Tilauskoodi

RIA16X-EA

Electronic complete (Ex + nonEx) incl. connection board + cover

Nro

9

Tilauskoodi

RIA16X-DA

LC-display incl. display board

Nro

6

Tilauskoodi

51006845

Cable gland NPT1/2, D4.5-8.5 IP68

Install. kit stainl. steel housing W08

Nro

6

Tilauskoodi

RK01-AA

2x cable gland M16, polyamide

Nro

6

Tilauskoodi

RK01-AD

1x adapter M20 on NPT1/2, stainless steel

Mounting set wall/pipe, plastic housing RIA46, RIA16, RID16

RIA16/RID16/RIA46 weather protection cover

Mounting set wall/pipe, Alu housing RIA46,RIA16,RID16

Spare RFID TAG

Consists of: RFID TAG, fixing wire, crimp sleeve.

Configuration kit TXU10-

for PC-programmable devices. set-up programme+interface cable for PC with USB-Port.